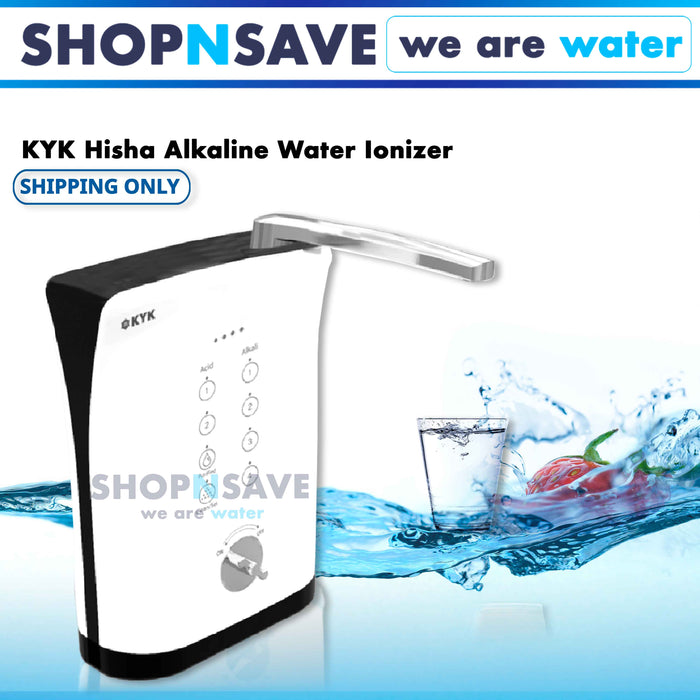 KYK Hisha Alkaline Water Ionizer
Original price
RM3,299.00
-
Original price
RM3,299.00
KYK, a trusted and award-winning brand in Korea, Europe, and the US, named after the renowned scientist Dr. Kim Young Kwi, who owns more than 130 patents. With 38 years of study on the science of water for human health, the KYK ionizer series offers both innovation and design, a mark of style, simplicity, and luxury for our homes today!
KYK Water Ionizers are manufactured in a facility that complies with ISO International Standard Organization and Good Manufacturing Practice (GMP) for medical products. KYK Water Ionizers and their components are 100% made in Korea. KYK brand is well trusted by consumers in Singapore, Korea, and USA.
KYK Hisha comes with 90 sq inches (TSA), Super Premium 5 Plates, generate a vast abundance of Active Hydrogen to neutralize free radicals, strong ionization power for different input water flow and quality.
KYK Alkaline Water Helps improving symptoms of Four Common Gastrointestinal 
Why Alkaline Ionized Water?
Contains natural antioxidants to boost your body's immunity and fight sicknesses
Contains micro-clusters to enhance cellular absorption of nutrients and vitamins
Contains rich alkaline minerals to neutralize over-acidity
Contains millions of negative ions to energize your tired body
Aids in healthy daily bowel movement (detox) and effectively hydrates your body without causing any bloatedness
Choose the pH level of every pour from your faucet by setting the KYK Hisha Alkaline Water Ionizer to one of its seven levels. Pre-set pH adjustment system offers the choice of four alkaline, pH from 8 to 10 and two acidic levels of water with pH from 4 to 6, along with the option of simply neutral filtered water. Different current and voltage let KYK Hisha machine precisely adjust to local tap water to produce high quality alkaline ionized water which has strong potential to reduce oxidation (i.e. negative ORP)
This high-end machine offers titanium electrolysis plates coated in platinum to create top-quality ionized water to the pH of your choosing. 5 slotted platinum-coated titanium plates with surface area of 170 sq. inches for stable pH and ORP levels and power efficiency. The KYK Hisha patented ceramic valve offers more reliability and gives you the option of a lower water flow rate without needing a booster pump.Tankless design to prevent bacteria growth. Before ionization Hisha purifyes water using premium antibiotic one-side activated Carbon (with silver added). This filter can purify up to 3,500 liters (6 months) of water. There are sensors which monitor filter contamination and alert you when filter has to be replaced. Important to note that filter capacity is measured in liters, not in days, reflecting actual usage.
The sophisticated and modern design of this system catches the eye and enhances the appearance of your suave kitchen decor. Nonetheless, it's so compact that it will blend into the background when you place it on the counter or mount it to the wall. The front panel includes buttons and a knob to quickly set the pH level, turn the unit on, or start the self-cleaning process.
Choose KYK Hisha Alkaline Water Ioner Machine gain health benefits, enhance your cooking, boost cleaning results and kitchen style.