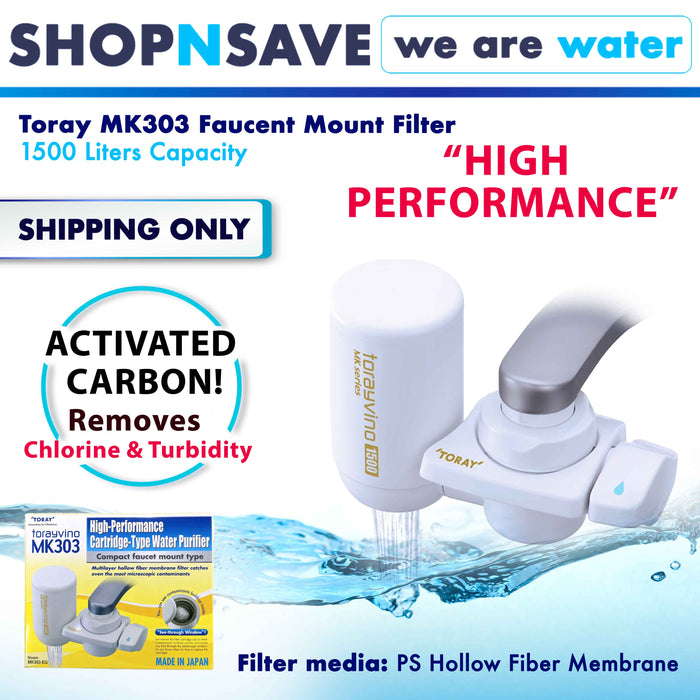 TORAY MK303 FAUCET WATER FILTER, 1500L
Save

10

%
Save

10

%
Original price
RM298.00
-
Original price
RM298.00
What's in the Box?
Toray MK303 Faucet Filter with Cartridge

User Manual and Fittings

NOTE: Exclude Installation, Shipping only
Overview:
Model: Toray MK303 Faucet Filter
MK303-EG 1500L Cartridge. High capacity, Extended Life Span
All Filters and parts fully imported from Japan
5 Layers of Filtration System. Water-Saving.
Faucet Mount, Easy to Install, NO Pumping required
Eco-Friendly, NO NEED for electricity, NO waste of plastic bottles
Quick Filtration just after opening the tap
Superb in deodorising the water, still remain other important minerals essential to your body
Torayvino Water Purifiers for Home
Combines Toray's developed Hollow-Fibre Membrane and Activated Carbon Technologies
These purifiers excel in eliminating Residual Chlorine, Turbidity, Rust, General Bacteria, and other Micro-Contamination
Toray products sold under this brand include systems designed to connect directly to a faucet, such as the Torayvino MK303, which meets all of the 12 JIS tests stipulated for household water purifiers, as well as stand-alone and under-the-sink models and pot models.
Torayvino MK303-EG Faucet Water Filter
Removes the dirt and odour from the water
Compact and easy to install, the water purification filter enhances your daily life by removing Bacteria, Harmful Organic Compounds, and Chlorine while keeping all the good minerals in your water with a double filtration system
Features:
Removes all Bacteria, Harmful Organic Compounds, and Chlorine
The Micro Pure filter is a multi-filtration system that removes all bacteria, impurities, and odors for clean, safe, and tasty drinking water. It consists of a hi-tech hollow-fiber membrane, which contains more than 520 billion micro-pores for the efficient removal of 99.99% of all bacteria, and granular activated carbon which removes unpleasant chlorine, bad taste, and odors. The filter also preserves all good minerals in the drinking water that are vital for human health.
Hi-Flow with a Maximum Rate of 2L per minute
This compact water purifier has a maximum flow rate of 2 liters per minute, which makes little change to the normal flow rate of unfiltered water. By simply rotating the water selection lever, you also have a choice of either a stream or a spray of unfiltered water or a spray of filtered water.
Four-stage filtration catches even the most microscopic contaminants.
1. Pre-screen: Removes rust, sediments, and bigger particles.
2. Granular Activated Carbon (GAC): The Torayvino filters use high-grade activated carbon to remove residual chlorine and other chemicals from the unfiltered tap water.
3. Second Screen: Ensures rust, sediments, and bigger particle removal.
4. Hollow Fibre Membrane Filter: Toray's advanced multilayer hollow fibre membrane filters remove rust, bacteria, coliform bacilli, microorganisms, and microscopic impurities from water and other liquid solutions without removing the calcium, magnesium, and other minerals essential to the human body.
The same membrane technology is used in dialyzer to purify blood in the medical field.
Advanced Quick Twist Mechanism for Easy Filter Replacement
The advanced Quick Twist filter change mechanism makes changing the filter quick, easy, and secure, bringing sense and simplicity to your water purifier.
Easy to Check Trapped Impurities through "See-Through Window"
This unique feature incorporated only in Torayvino. Simply open the filter cartridge cap and check contaminant build-ups through the "See-through Window" to actually see whether the filter cartridge needs replacing. The filtered water is therefore always safe and tasty.
Easy-to-Use 3-Step Water Selection Lever
Very smooth 3-step change (Pure Water, Unfiltered Straight, Unfiltered Spray). Easy installation and Replacement of the Filter Cartridge.
1. Turn the water selection lever to "Unfiltered Straight" and insert the filter cartridge.
2. Rotate the cartridge 90°to the vertical.
3. Cartridge attachment is complete.
Quick Fit Tap Adapters for Easy Installation on your Tap
This advanced water purifier comes with a number of tailor-made Quick Fit tap adapters, to help you have an easy and simple installation of your purifier in your tap. Real sense and simplicity. Maximum performance without the need of electricity. Designed to operate without electricity while offering maximum performance. Supports sustainability.